---
"Sex terms made simple"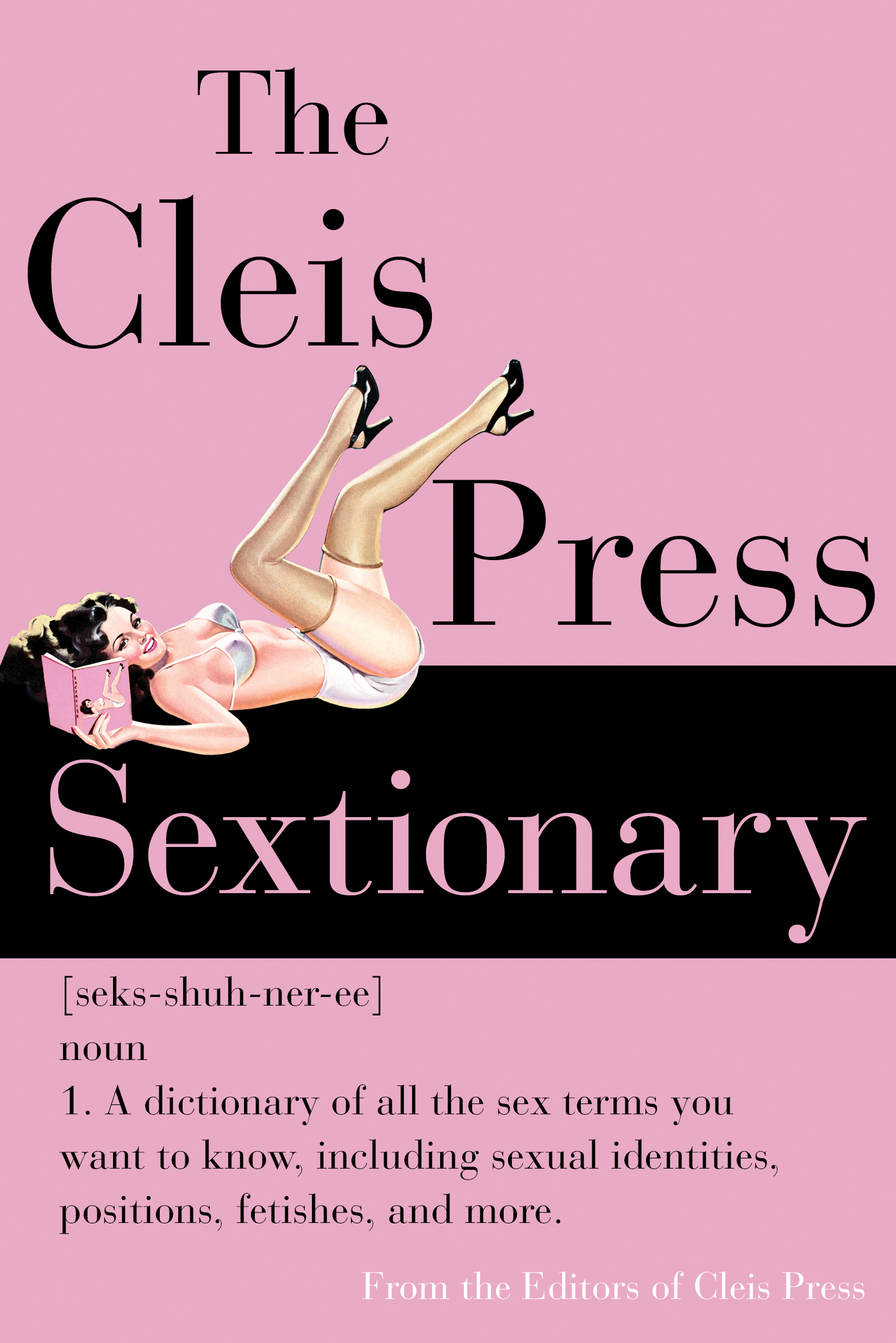 When it comes to sex, most people like to think that they know it all, however guess what…we don't!
Have you ever been part of a conversation when someone used a word or made a joke and you had no clue what they were talking about? We've all be there!
Let's be real, it's so easy to get confused with so many different words or terms for "stuff" and things constantly keep changing. It's challenging to keep up with having to communicate online, texting and "sexting"!
Good news, there's a new book out on the shelves called: "The Cleis Press Sextionary"! I read it and let me tell you, it's a worthy addition to your library, especially if you're out there in the dating world!
Sextionary is about getting you "up to DATE" with some sexual terms made simple for YOU. It's a one stop shop defining all the words that have to do with sex, your body and the relationship world!
Cheryl: "Love includes sex…this is sex and the dictionary all rolled into one. So many people out there have a problem with the terminology of sex, their sexual life and it kind of works into our dating and relationship world…how did you decide to come up with this book?"
Timothy: "There was no dictionary for sex so we hired two researchers…researched all the terms and we put it all together…and we tried to make it as fun, in depth and as educational as possible."
Cheryl: "Do you find in your own relationship world, all these acronyms and new words kind of get mixed up in translation when you're communicating with people?"
Marianne: "I find texting with younger people very educational…I often have to google that, the urban dictionary is your friend and now I'm glad that we have another dictionary to look at…a lot of younger people are texting stuff, we have no idea what they are saying…I have dated younger people but I have a lot of young friends, some non sexual stuff, we have no idea what they're saying…"
Many different terms are affecting communication in regards to our love life . Can we define some, never mind all of the ever changing lingo, acronyms and innuendo? I gathered a few people around the table from two different generations to see if they could decipher some of the code or catch phrases as defined in this revolutionary sexually driven dictionary .
Timothy: "Everything is always relevant when it comes to sex, for ex: what does easy mean… something as a simple text message saying she's easy, the question is what does that question of easy mean and  over text message. It's not that clear cause it can mean a different thing…with this book, it's laid out clear, this is exactly what it means, so you don't have to use google, you don't have to use the urban dictionary, you can use the sextionary."
It's easy for words to get lost in translation in the dating world. Online communication is challenging to say the least, add to that all these terms that apply to our love/sexual life. There is nothing wrong with being clueless, all you have to do is ask, don't be shy and never make assumptions. Dating should be fun and playful! If you come across a kinky term and find out its meaning, you may even be curious to explore!
Jason: "There's a lot of terms that are coming now that people have no clue what they're saying, so be honest, say I have no clue what that is and go on from there…For example as far as easy…the word has a negative connotation…like it might come quicker, the sex…that's how I see it…"
Remember, words matter! In a recent survey done by Match.com, there are certain key words like "love" & "fun" that both genders are attracted to. This study also showed women are more likely to click onto profiles that include the word "caring" while men zone in on "easy". While this may be hair raising for some lets hope the inference is more towards "easy-going" instead of ASSUMING  the derogatory counterpart.
Cheryl: "Men are attracted to the word easy…there's other ways for saying that I'm easy or that I sleep around…"
Timothy: "Yeah, like I'm a whore, I like to get it on, for those who are married, I like to swing, there are a million sex terms for that…"
Cheryl: "How long did it take to write this book"?
Timothy: "About a year and a half…"
What better way to spice up a conversation while testing the need for a Sextionary than to ask my two guests if they could figure out some of the definitions, a version of an pseudo adult spelling bee.
Cheryl: "So imagine you're out on a date and somebody says to you, so you ever think of going around the world?"
Marianne: "I'm gonna guess that around the world is all of the stuff and that's probably more than the stuff that I'm aware of…if someone asked me that…I would asked them to bullet list it for me…when they bring me on a date, I wanna see the check boxes…"
Timothy: "The first one is a term for intercourse that utilizes several different sexual positions before completion; the other definition is the sexual act of kissing, licking or otherwise orally stimulating a partner's entire body prior to giving oral sex…"
Cheryl: "The whole point of this is to realize that sometimes people can say things to you and they're not saying what you think they're saying…"
Cheryl: "BBW…What is that?"
Jason: "Big, beautiful, women"
Cheryl: "Cartwheel position?
Marianne: "I think it involves a hand stand and some penetration…am I close?
Timothy: "I'll give you that one…"
This next one was a term that I believe everyone should know and safeguard themselves by asking the uncomfortable yet necessary questions when deciding to be intimate and always, always use protection.
Cheryl: "DDF… is Drug and disease free…and it's commonly used on dating and sex finding apps and websites and personal listings…"
Timothy: "One of my favorites…Do you guys know what vominatrics?"
Jason: "I'm gonna take a wild guess…when people like to be vomited on…"
Cheryl: "What about Devil's threesome?
Marianne: "That's when your wife and your mistress find out that they're having a threesome at the same time…"
Jason:  "If you have a threesome with your wife or your ex-wife!"
Timothy: "I'm gonna give it to Marianne…"
If we refer to the actual  definition of The Devils threesome according to Sextionary this triangle is comprised of  two men and one woman. I wonder if it gets its title from some woman long ago declaring the "DEVIL MADE ME DO IT!"
These are just a few examples what you can learn from this all-inclusive educational yet entertaining 240 pages dictionary about sex. The intention is that you understand the true definition of any sexual act, term  or intimate situation you may encounter or participate in. Now, what you don't know is at your fingertips, just  look it up! Its as easy as…ABC!
There are many things that you can do to keep your sex life flowing and on track. Your sexual well-being goes hand in hand with your overall mental, physical, and emotional health
Even in the best relationship, sex can become "dull" after a number of years. With a little bit of imagination, you can rekindle the spark. Exploring different sexual positions not only adds interest to lovemaking, but can also help weather some problems. Why not try? Experiment with new positions and activities. Try sex toys and sexy lingerie if you've never tried before.
Maybe you've never thought of having sex in a secluded spot or in different positions; now might be the time to explore your options. Just the feeling of naughtiness can add spice to your love life!
The most important tool you have at your disposal is your attitude about sexuality. Armed with good information, communication and a positive outlook, the world is your OYSTER (pun intended) and we all know what that means…a healthy happy sex life for many years to come.
If you need any dating advice or my support in your love life, please do not hesitate to reach out to me 1-844-744-SOLO (7656). When it comes to LOVE AND RELATIONSHIPS I am always here to keep you "up to date" .
Cheryl xo