---
"How to be your own Valentine"
Valentine's Day is around the corner and this time of the year is all about LOVE and hearts floating around! All the love birds are busy planning something special for their significant other; from line ups at the flower shop to restaurant reservations to the chocolate boxes flying off the shelves and the list goes on…But what about all the single people out there? How do they feel on February 14th if they are flying solo?
Many believe that Valentine's Day is for couples, lovers and that this day of love doesn't matter much unless you have that special someone to share it with.
But that's not true! Valentine's Day is for everyone including singles…so cheer up if you are solo as there are so many things that you can do to shower yourself with LOVE! Use your imagination, think of all the things that you would like to do and if you're running out of ideas, reach out to me as I have a list of things to suggest!
Cheryl: "Everyone thinks that Valentine's Day doesn't exist…unless we have an outward love coming at us rather than having the inward love that we can then share out there …to embrace the concept of self-love…think about this while you're sitting at home, wrap the two arms across your chest, grab your shoulders, go as far as you can into that hug and give yourself a self hug and give yourself a little pat on the back as you do it … a loving pad…"
Loving yourself is the first step towards your well being, so it's a MUST to make yourself feel special during the season of love. It is so easy to overlook your own needs and desires around Valentines' Day, so make sure that you are making yourself a priority as YOU deserve it!
We often neglect taking care of our basic needs as we get caught up with our daily routine such as work, family and all that life throws at us. But self-care to maintain our physical and mental health and balance is so important and deserves our full attention.
Cheryl: "It's about how to make sure that you are giving yourself the love you need because even if you're in a relationship, you have to love yourself, you have to love your life, you have to love the things you're doing to be the best partner for your partner and if you are solo, you must love who you are and if you love your life you will meet the love of your life."
If you are solo, how about doing some of things that you have tossed aside, that you really enjoy doing? It could be anything like dancing, singing, playing music, practicing yoga, meeting a friend for hot chocolate, going to the spa…anything that you're passionate about and puts you in a great mood!
So before you sabotage this day, how about making it ALL about YOU? Just take action and do it!  Inhale some positive energy and exhale the negative connotations associated to being single on Valentine's Day!
Cheryl: "Don't be hard on yourself. If you don't get it all right, practice that positive energy … put it out there for yourself and every day give yourself an affirmation …write your own love letter to your self…that letter of self love and appreciation for who you are …"
Self love is so important in life. The most important relationship is the one that you have with yourself before anything or being with anyone. Loving yourself is having compassion for yourself and accepting who you are as a person.
We are our biggest critics so how about if we give ourselves a break and just BE!! Be whatever we want to be…This mindset will help us think more through a positive lens in our daily life…
Diane Dupuis: "There are things about yourself that you can change and there's no one who's going to do that for you.  You have to choose to do that yourself but then there are things about you that are perfectly okay the way they are. We have to turn that little voice off in our head that's says it's wrong and it's bad or that you're not good enough … you have to shut that voice up…"
Elizabeth Smart: " I think it's really important to take that time to go inwards and reflect…I think that itself is self loving, caring and then we should cover our gratitude … we cover at least five things that we are grateful for. It's important no matter what's going on to take that time out for ourselves …"
In life whatever you practice, you get good at. It's really that simple. If you want to be an expert in any field what do you do? You practice every single day. If you keep feeding your mind with negative thoughts well guess what? You will create a negative life. As they say, practice makes perfect! So how about practicing to think more positively, to be grateful for all that you have while striving for all that you want? You can also write down all the things that you would like to achieve this year including meeting someone if you are solo and ready to let love in.  I suggest taking a pen and a paper and writing it down. It makes a world of difference; "from thought to pen".
Diane: "If you always concentrate on the negative, your life is gonna be negative so why not choose the positive things? You have a choice to be positive or negative … everything is a choice …"
Elizabeth: "I always teach my children that there is always a blessing in disguise everywhere you turn …it's about living in the now and not focusing too much on the past or the future… just allowing things to happen…"
When you focus on self-love, controlling what you decide to let in comes naturally. When you choose to live life with a healthy and positive mindset, you put out positive energy into the universe and you end up attracting that same energy back.
There are ways to train your mind and take control of your thoughts. Meditation for a few short minutes each day can help you ground yourself, to be in the now, to appreciate the present moment. If you haven't tried it, give it a shot. You are worth a few minutes of your own time and there are different ways to meditate. I use cooking as my "me time" to meditate.
There are so many things around us that we can be grateful for but somehow take for granted. So do yourself a favor on this Valentine's Day; DON'T take yourself for granted. Look at yourself in the mirror and tell yourself "I LOVE YOU"! Try it and say it out loud like you mean it!
Valentine's Day is just another day to celebrate love with or without someone. You can celebrate this day with family, friends or whoever you choose.
You can also spend it alone and appreciate your own company. Cook something special for yourself, buy yourself your favorite flowers or pay yourself a treat at the spa! It is ALL up to YOU and there is absolutely nothing wrong with spending this day treating yourself!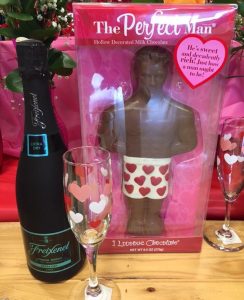 Elizabeth: "I'm allowed to be happy, to shine my light and I'm allowed to be awesome and celebrate that…"
Diane: "Unless you are 100% like yeah I wanna do this  then don't do it … everything I'm doing in my life is bringing me Joy… even when bad things happen, you can look at it and find a way to turn it around…"
Bhaskar Goswami: "Attentiveness … whatever you decide to do for Valentine's whether it's dinner, skiing … that's the context, the real content is to give the attention, the act of listening and seeing … the important thing is attentiveness …"
Listening is such an important element in our relationships. So make sure you practice the art of listening, starting with yourself to being able to listen to those around you. It will make such a difference in the quality of your relationships. Trust me on this!
Cheryl: "When we open up our minds to unlock the door to our heart, our life steps through it…Loving yourself 24/7, 365 days of the year is going to make you the most datable you for yourself and for the partner you're with and going to be with…"
So no matter what your relationship status is this Valentine's Day, make sure that you are doing something that makes your heart happy. Remember to always love yourself first and never settle for anything less. We are all a work in progress but it starts with YOU!
If you need any dating advice, please do not hesitate to reach out to me 1-844-744-SOLO (7656)!
Cheryl xo