---
"Stirring the pot of Meditation"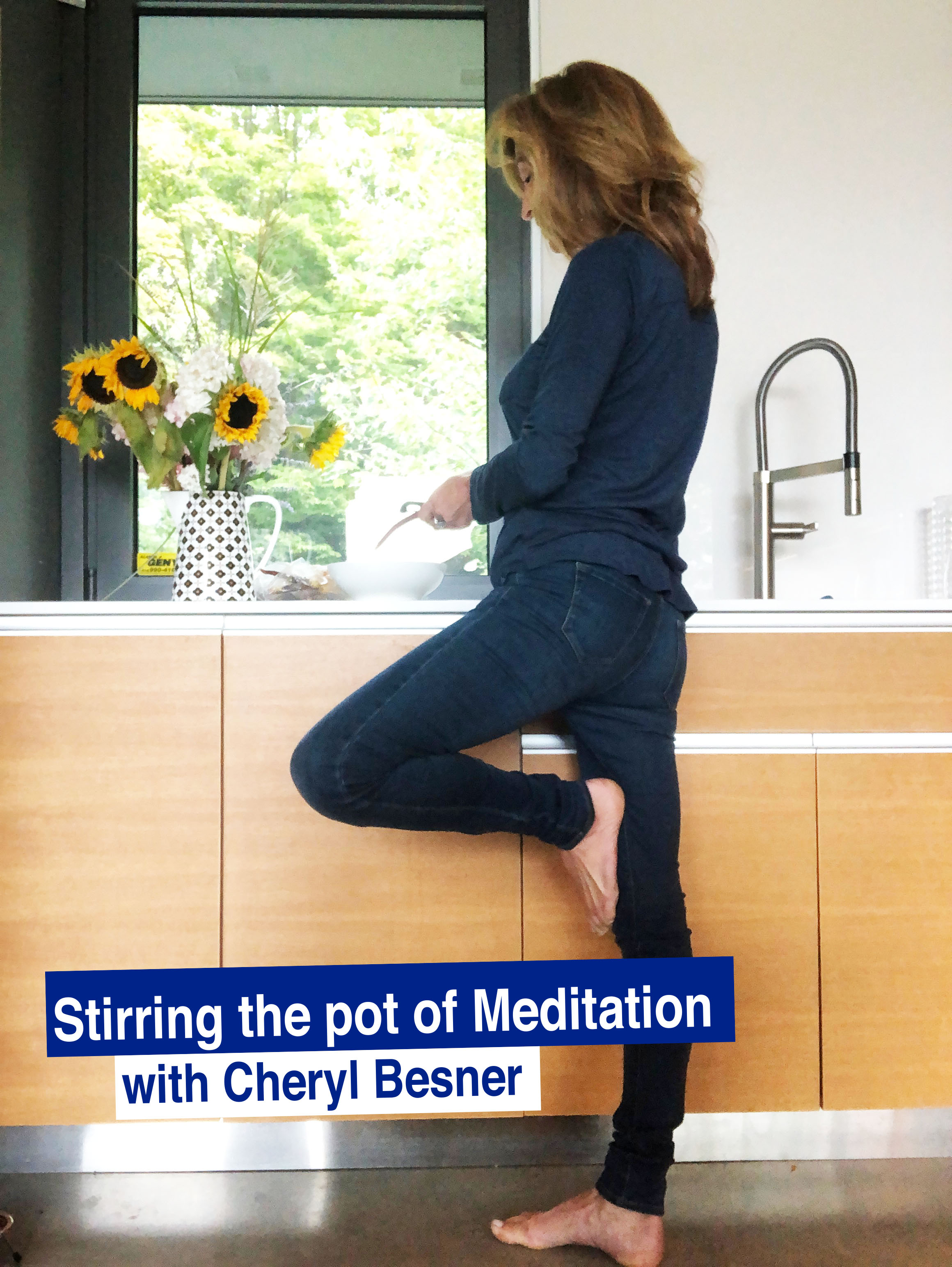 How to find a recipe that works for you.
Meditation, for many sounds like torture and I, have to admit years ago when people suggested I learn to meditate my automatic reaction was to laugh and say "you obviously don't know me as I don't like to sit still for very long."
However…
Since I can remember I always performed tasks that mandated me to be in one place for a while in the same position. I plant one foot firmly on the ground, my leg straight as an arrow with the soul of my other foot press against the standing inner thigh.
Like a flamingo, I wash potatoes with a scrubber then gently peel the skin near my kitchen sink, cooking at the stove slowly stirring a hearty soup in a continuous circular motion or yet I may find myself lost in the froth made by the soap as I clean the dinner dishes.
Cooking was and still is my quiet space and no matter what menial task I perform while in that flamingo position I am calm and the outside world is nowhere to be seen. I am just there, present and peacefully one with myself and my veggies!
I want to share a recipe for successful meditation that you can spice up to suit your taste buds.
I discovered my secret ingredient for meditation in 2014 while in an introduction class at Kripalu with the one and only Bhavani Lorraine Nelson. With a sense of humour and deep regard to the overall nervousness and scepticism from some in the room, our fearless leader brought us into a safe place. Bhavani guided us all into this quiet space within, reminding us to breath repeating that if our mind wandered to gently bring ourselves back to the present time, space and breath. Repetition is the keyword and with that, I had my first success traditional meditation.
After the session, the discussion evolved and revealed that meditation can come in many forms and it does not always mean you have to be seated on the floor with legs crossed and eyes closed. It's about letting your mind find it's focus and clarity in the stillness of your thoughts.
I strolled to my room down the quiet hallways of the retreat in reflection and realized that in fact there are many forms of meditation and my quiet place that has me standing like a flamingo position is actually a yoga position called TREE POSE! OMG, I can meditate and have been all my life!
So, I invite you to look beyond what you believe meditation is supposed to look like and try something new. It can be as simple as taking a large bag of carrots standing at your sink gently peeling them one at a time. It has been shown that the constant repetition of the same methodical movement is a great starting point for many.
What do you have to lose? Try it as if nothing else you can enjoy a good bowl of carrot soup!
Take some time to digest and then… Bon appetite and happy calmness!
If you have any relationship or dating questions I am here to support you 24/7 at 844-744-SOLO (7656).
Keep Dancing Through Life With Grace And Ease,
#Cherylxo

#blingitonbaby💎 #ownyourfabulousness
Follow my journey on Twitter / LinkedIn / Facebook / Instagram/ YouTube
Click to join Cheryl Besner's Community